Gum removal in Dublin City centre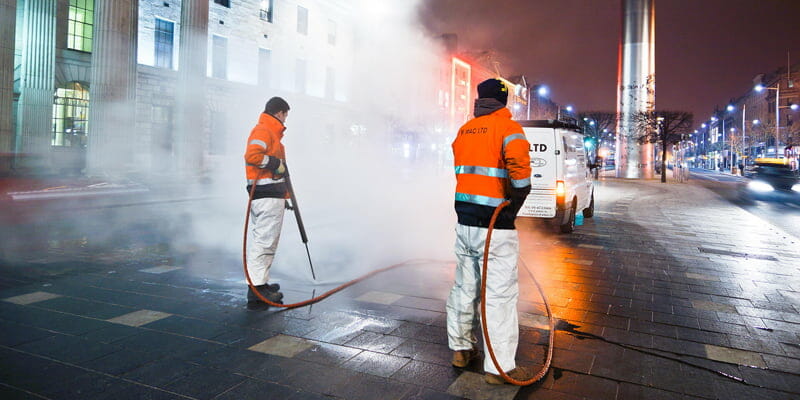 Gum removal in Dublin City Centre
According to litter.ie, chewing gum comprises 15% of all litter recorded in Ireland. Our Chewing Gum Removal Unit specialises in ridding our streets of this modern, unsightly nuisance. We work with various county councils, local authorities, and property managers in an effort to combat this problem.
Using modern techniques (high-temperature mist at low pressure, to avoid surface damage), our gum removal service offers clients an affordable, viable and efficient service in the battle against discarded chewing gum. Our experience and efforts have resulted in dramatic improvements in the visual appearance of numerous streets around the country.
This modern, unsightly nuisance is a problem for all city and urban landscapes. Walk outside these areas and you will notice how bad the problem is and how chewing gum adds to the litter problem. Pmac is scheduled to remove gum on a monthly, bi-monthly and quarterly basis in Dublin's city centre. In the run-up to Christmas, we concentrate on all the main shopping streets. Pmac employs a high-temperature mist at low pressure to avoid surface damage. We are delighted to assist in all the improvements being made to Dublin's city centre and are proud to be Dubliners!
Heritage Contractors
Pmac projects are very varied. Our legacy is quality projects we can be proud of and the below projects are an example of them. We value the inputs of our customers, our team and our supply chain in reaching positive outcomes. Health and safety to our people and the public is a priority for us and without compromise.
If you are working on a similar project we would love to hear about it. Dont hesitate to call us or send in the details of your project through our contact page at  https://pmac.ie/contact-pmac/
We are registered on both the RIAI and Heritage contractors
https://heritageregistration.ie/heritage-contractors-listing/
The majority of Pmac projects are based in Dublin but we also work all over Ireland.
Our wide range of services are available to both residential and commercial clients.